"A massive overview of every myth under the sun. Davis shatters commonly held myths about myths."
- New York Daily News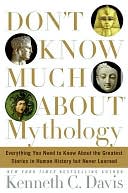 Without ancient mythology, modern storytelling would be a completely different beast. From plot structure to character development, authors are still looking back thousands of years for cultural touchstones.
That's why every serious reader will love today's Free Fridays selection:
Don't Know Much About Mythology
by Kenneth C. Davis. This bestselling author has written seven books in his popular Don't Know Much About…series, covering everything from the
Bible
to the
American Civil War
. In this edition, Davis offers an engaging, layman-friendly lesson on ancient mythology—exploring cultures from around the world. While you probably have a vague idea of where everyday terms and concepts like "Pandora's Box," "Achilles' Heel," and "Wheel of Fortune," come from, after reading DKMAM you'll feel quite confident going into your next game of Trivial Pursuit on family game night.
Once you've binged on your mythology lessons, you can move on to Davis's other equally enlightening
Don't Know Much About…books
available for NOOK.
Free Fridays Recommends
Each week, we ask our featured author to recommend a book or author that you may want to check out. Since authors are such passionate readers themselves, we thought you might like to find out what they love to read, too! Here's what Kenneth recommends: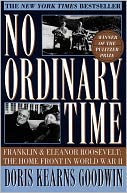 As a lover of history, I always look for historians who are also great storytellers --who show us the real people behind extraordinary events. There are few better examples than Doris Kearns Goodwin's
No Ordinary Time
.
Goodwin puts us in the Roosevelt White House corridors as FDR, Eleanor Roosevelt and Winston Churchill, among others, struggle for victory over Hitler's Germany. It is brilliant storytelling and great history.